Gertrude Spiro must have been well-connected. She was the proprietor of a liquor and cigarette shop at 2 Nowiniarksa St. in Warsaw in 1941-1942. The shop undoubtedly generated a lot of income for whoever owned it; liquor and cigarettes are two of the most in-demand commodities during wartime. Moreover, Gertrude's shop was the only cigarette shop in Warsaw, and it also sold liquor. In her position she must have had many friends and many enemies.
Gertrude Piss-Spiro and her daughter Sonia were arrested in Warsaw and put into Pawiak Prison in 1943. They are listed among 141 women on a prison transport bound for Auschwitz on 24 August. However, three of those 141 women apparently did not arrive. Two of them were Gertrude and Sonia.
Gertrude Piss-Spiro and her daughter Sonia were arrested in Warsaw and put into Pawiak Prison in 1943. They are listed among 141 women on a prison transport bound for Auschwitz on 24 August. However, three of those 141 women apparently did not arrive. Two of them were Gertrude and Sonia.
As of a few months ago, the trail ended there.
As of today, the trail still ends on 24 August 1943, but there is so much more we have learned about this mysterious baby-smuggler. Adele and Wolfgang Rebhun's account of Gertrude's visit to speak to their mother Charlotte, and Pnina's subsequent delivery to the Rebhun's apartment, have been revealed as a small part of a much larger and more complex picture.
When we started this research, we knew very little about Gertrude Spiro (Spira, Spyra, Spyro, Szpyra, Schapiro, ???) other than she was a Christian woman from Berlin who had been married to a Jew. Her husband had been deported, and she was the middle man in a scheme to save the life of a Jewish baby by placing it with a Christian family on the Aryan side of Warsaw. We did not even know how to spell Gertrude's last name.
Our new revelations about Gertrude began with Cate Bloomquist's discovery of a Leo David Spiro and a Gertrude Spiro in the Jüdisches Adressbuch für Gross-Berlin 1931 (Jewish city directory for Greater Berlin 1931). They were both listed at N 54 Brunnenstrasse 175/177. In 1930, Leo David is listed at this address as a "lederarbeiter" or leather worker. Until now, we had been assuming that Gertrude was the Gertruda Spyra who was a partner in Poniecki, Meisner & Co., a wine and spirits manufacturing company in Chorzów near Katowice in southeast Poland. Could we have been wrong?
Another clue came a few weeks later when Cate discovered Frederick Priess in the 1940 Berliner Adressbuch (1940 Berlin City Directory) at N 54 Brunnenstrasse 176. He is listed as a wagon driver (or delivery man) living at this address as early as 1925, and as late as 1943, the last year available through the Zentral und Landesbibliotek Berlin. Note the last name is P-r-i-e-s-s (pronounced Preece), and not the more common P-r-e-i-s-s (pronounced Price). We felt confident that this was Gertrude's father, and that the Leo and Gertrude listed at this address in 1930-1931 were "ours".
Gertrude's liquor and cigarette store was located at 2 Nowiniarska St. on the Aryan side of Warsaw. Before about 1940, the Warsaw city directories indicate that the address was located in a Jewish neighborhood; as of early 1941, according to Barbara Engleking's book The Warsaw Ghetto: A Guide to the Perished City, the area was incorporated in the Warsaw Ghetto. Later that same year, when the neighborhood was excluded from the Ghetto and became part of the Aryan section, shops appeared along the even number (north) side of Nowiniarska St. Whoever opened Gertrude's shop must have been well-connected and wealthy to grab such desirable real estate on a busy corner, just a block from the Ghetto wall.
Engleking's book reveals another curious detail. In the section on smuggling, on p. 437, she quotes from the Ringelbaum Archives:
"The policeman Jakob Frydman set up a business smuggling goods to the ghetto. The Zglinowicz cafe in Leszno Street was the place where contacts were made. In the cafe, Misza Waserman sat by the telephone and took calls from the Aryan side to say that the goods were ready. Misza replied with a password, indicating the time and guard post one could enter (Wroblewska 1996, 205)". A similar role was played by a certain cafe on Nowiniarska St. "All the smugglers knew the telephone number 11-33-00 of that cafe, where they could come to terms among themselves and make deals with the players (AZIH, Ring I, 435)".
The 1941 Warsaw city directory reveals that the phone number associated with the cafe belonged to Chaim Szok, 8 Nowiniarska St. It was located in the same building as Gertrude's shop.
Warsaw was boiling with both pro- and anti-Nazi activities during the early 1940s; without doubt Gertrude was acquainted with both sides. She was the proprietor of a shop on the Aryan side that was only steps away from the Ghetto walls and located next to a cafe that was a well-known center of smuggling activities. Her daughter's sweetheart was a German soldier, yet she felt safe in relaying his request to a Christian friend to shelter a Jewish infant smuggled from the Ghetto. Gertrude and her daughter Sonia were arrested as political prisoners and put into Pawiak Prison in early 1943. Yet both mother and daughter apparently escaped from a transport to Auschwitz a few months later.
Who was this woman?
In search of answers, we contacted the Jewish Historical Institute in Warsaw, asking for any information they might have on Gertrude Spiro or on 2 Nowiniarska St. One item they provided was the handwritten record from the Pawiak Prison recording Gertrude and Sonia's arrest on 11 May 1943. Gertrude's parents are listed as Friederich and Maria; Sonia's parents are listed as Leon and Gertrude. Their last name is confirmed as Priess-Spiro. No release date is specified.
Gertrude Spiro and her daughter Sonia were arrested on 11 May 1943 and sent to Pawiak Prison. Images courtesy of the Jewish Historical Institute, Warsaw.
We were hoping the JHI could provide the names of other prisoners arrested the same day as a clue to why Gertrud's was arrested. This was not possible, as there are 35,000 names in the register, and only images of the Jewish entries in the book have survived. The records of German prisoners were not copied after the war.
Regina Domanska's book Pawiak Wiezienie Gestapo (Pawiak Gestapo Prison) offers a hint that Gertrud was affiliated with the Communist party. As translated by Franek Grabowski, our group member from Poland, the prison's diary entry for 11 May 1943 reads:

Arrived: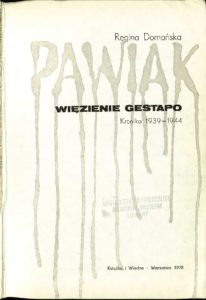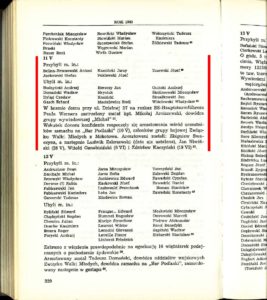 Bełina Brzozowski Antoni Kamiński Jerzy Trzewski
Jozef Jankowski Stefan Poklewski Jozef
Departed:
Budzyński Andrzej Hereczy Jan Osiński Andrzej
Domański Waclaw Hryciuk Skołimowski Mieczysław
Dylag Czslaw Kosiński Strzałkowski Jan
Gasch Erhard Maciejewicz Emil Wisniewski Władysław
Cpt. Mikolaj Arciszewski, commander of intelligence network "Michal" was shot in the gate of the tenement at 27 Dzielna St on the orders of the SS Hauptsturmfuhrer Paul Werner.
As a result of denunciation by an informer, arrests began among attackers on "Bar Podlaski" [Podlasie's Bar or Pub] (10 May), members of the battle group Union of Youth Fighters [Zwiazek Walki Mlodych] of Mokotow [Warsaw's district]. Arrested were: Zbigniew Swanczyna, then Ludwik Zakrzewski (date not set) Jan Niwiński (26 May), Witold Ganabiniski (6 June), and Zdzislaw Kaczynski (19 June).
Research revealed that many of those arrested had Communist party affiliations.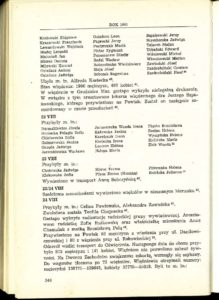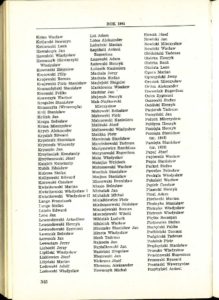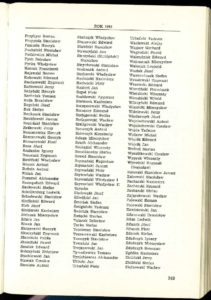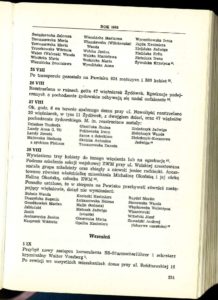 The diary's entry for 24 August 1943 reads in part:
A large transport left for Auschwitz. The next day 875 men and 141 women arrived at the camp. The prisoners were not allowed to take food. At the Station West [Warszawa Zachodnia – Warsaw West] the escort was increased, and harassment intensified. Carriages were loaded with 75 prisoners each. The prisoners were given numbers: men 138771-139645 and women 55778-55918 . They were:[A long list of prisoner names follows, including those of Gertrude and Sonia Priess-Spiro.]
There is no other mention of Gertrude and Sonia in Domanska's book. Contact with the Auschwitz Museum provided no further information on their fate.
As an aside, the last name on the transport list for 24 August 1943 is that of Krystyna Żywulska, a noted Polish writer, columnist, song writer, and graphic artist of Jewish origin. Her real name was Zofia Landau, but she changed it upon interrogation at the infamous Szucha Prison. Zywulska was wife of Leon Andrzejewski aka Leon Ajzef aka Lajb Wolf Ajzen, an important figure of communistic security services. After the war, she wrote Przeżyłam Oświęcim (I Survived Auschwitz), an account of her harrowing experiences in the camp. She also wrote Wiersze oświęcimskie (Auschwitz Poems) in 1946, and Pusta Woda (Empty Water) in 1963. She died in 1992 in Munich of leukemia and is buried in Dusseldorf.
If Gertrude and Sonia escaped the transport to Auschwitz, they probably went into hiding. But where could they have gone? As the proprietor of the liquor and cigarette shop, Gertrude was well-known around Warsaw. It's likely that she and her daughter escaped to another part of Poland, to a place where they would not be easily recognized. If so, she probably had assistance, either from family members, from friends, or from fellow members of the underground.
Cate Bloomquist, our resident expert on German records, came up with useful information about Gertrude's background. Several months earlier, while researching the Priess family in Berlin, Cate came across the book Widerstand in Berlin gegen das NS-Regime 1933-1945: ein biographisches Lexikon (Resistance against the Nazi regime in Berlin, 1933-1945: a biographical dictionary) that references a Gertrud Priess from Berlin. Cate managed to obtain a copy of the relevant pages.
According to the lexicon, this Gertrud was connected with the KPD (Communist Party of Germany). Her entry says she was on the KPD member list for 1928, also that she was involved in the KPD once it became illegal, specifically with housing a Communist named Ludwig Marmulla after his release from prison. Her address is given in 1935 as 64 Kottbusser Damm St., Neukolln, Berlin. There is also a Fritz Priess mentioned, who was a member of the KPD, but it is not clear if he was related to Gertrude, nor if she was the woman we were searching for.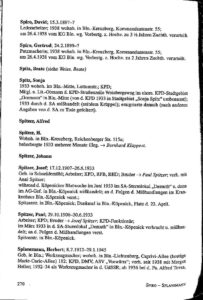 Cate made further inquiries about Gertrude and Fritz, and searched for more information on Ludwig and KPD member lists and activities. She also investigated the Kotbusser Dam address, but without success.
However, two familiar names appear on another page of the lexicon.
Spiro, David; 15.3.1897 – ?
Leather worker; 1938 resident of Berlin-Kreuzberg, Kommandantenstr. 55; on 26.4.1938 sentenced by the High Court in Berlin for preparing to commit treason to 3 -1/2 years in prison.
Spiro, Gertrud; 24.2.1899 – ?
XX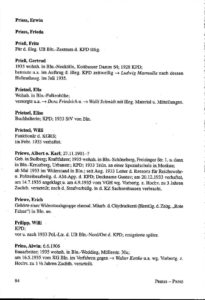 Milliner; 1938 resident of Berlin-Kreuzberg, Kommandantenstr. 55; on 26.4.1938 sentenced by the High Court in Berlin for preparing to commit treason to 2 years in prison.
Gertrude's fate was tied to that of her husband, Leo David Spiro, at least between 1938-1940. She received a sentence of two years; he received a sentence of 3-1/2 years. In 1940, after her prison sentence was completed, she fled or was deported to Warsaw.
So what happened to her husband Leo?
The International Tracing Service at the The US Holocaust Memorial Museum provided much information on him. His fate was unfortunate. Once he was sent to Brandenburg Prison, unlike his wife, he never left "the system".
On 26 April 1940, when Leo David Spiro had completed his first two years in Brandenburg Prison, he was transferred to the Polizeigefängnis (Police Prison) in Berlin to serve an additional 1-1/2 years.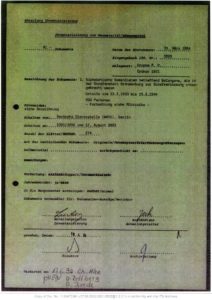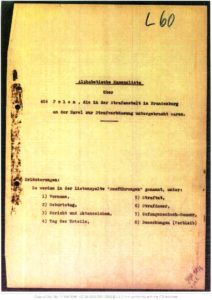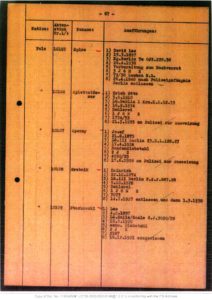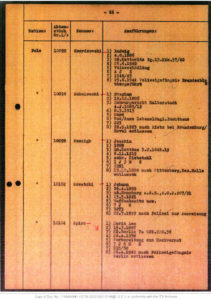 Alphabetical list of prisoners serving their sentences at Brandenburg Prison, 1933-1944, Deutsche Dienstelle in Berlin. Collection of the International Tracing Service, US Holocaust Memorial Museum Washington DC.
XX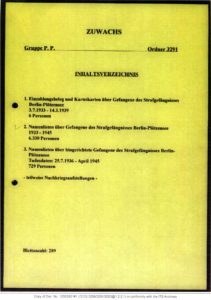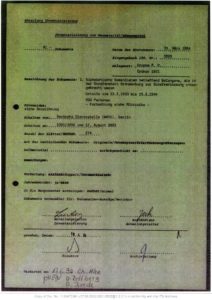 Inhaltverzeichnis: Namenliste uber Gefängene des Strafgefängnisses Berlin-Plotensee 1933-1945. (Table of Contents: Name list of prisoners of the prison Berlin-Plotensee 1933-1945). Collection of the International Tracing Service, US Holocaust Memorial Museum, Washington DC. Leo David Spiro's name is the first on the list.
XX
Leo Spiro would have normally been released on 26 October 1941, but by then he was a prisoner in the Sachenhausen Concentration Camp. On 7 August 1941, the camp records state that he was transported from Sachenhausen to an unknown destination.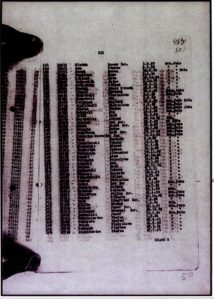 XX
KL Sachenhausen, Ordner 93, GCC 10/84; Transportenlisten des Konzentrationslagers Sachenhausen Nach; Unbekannt; 7.8.1941; 400 Personen. Sachenhausen Concentration Camp, File 93, GCC 10/84, Transport List of the Sachenhausen Concentration Camp to an unknown destination, 7 August 1941; 400 Persons. International Tracing Service, Collection of the International Tracing Service, US Holocaust Memorial Museum, Washington DC.
XX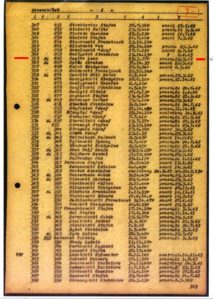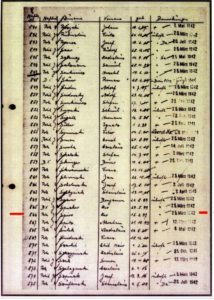 KL Ravensbruch, Ordner 46, GCC 9/54; Nummernbuch (Mannerlager); Blattenzahl: 200. Ravensbruch Concentration Camp, File 46, GCC 9/54; Number book (Men's camp); Page count: 200. Collection International Tracing Service, US Holocaust Memorial Museum, Washington DC.
XX

XX
XX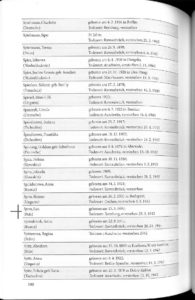 That destination must have been Ravensbruch, as he is on the camp's outgoing transport list of 25 March 1942. The list does not mention where he was sent, but the Ravensbruch Gedenkbuch (Ravensbruch Memorial Book) states he died the same day at the Bernberg Euthanasia Center, a wing of the State Sanatorium and Mental Hospital in Bernburg, Saxony Anhalt. It was one of several euthanasia centers run by the Nazis under their official "Euthanasia Programme", later referred to after the war as Action T4. A total of 9,384 sick and handicapped people from 33 welfare institutions and nursing homes as well as around 5,000 prisoners from six concentration camps were killed there in a gas chamber using carbon monoxide gas.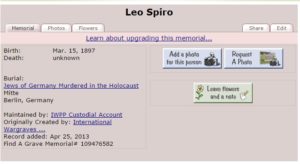 Leo David Spiro was among them. Although his remains were probably cremated by the Nazis, he is listed on Find-a-Grave among the Jews of Germany Murdered During the Holocaust.
Gertrude and Sonia were almost certainly unaware of Leo's fate; they could not have depended on him for their survival. We are still left with the mystery of what happened to them after 24 August 1943.
Part I: Who Am I, What Is My Name? Pnina, Otwoc, and the Kazcmareks
Part II: Who Am I? What is My Name? Pnina, Wolfgang, and the Warsaw Ghetto
Part III: Who Am I, What is My Name? Gertrude and Sonia Spyra
Part IV: Who Am I, What is My Name? Wolfgang & Adele's Eyewitness Account
Part V: Who Am I, What is My Name? Gertrude and Sonia's Escape
Part VI: Who Am I? What is My Name? Our Search for Gertrude Spiro
Part VII: Who Am I? What is My Name? Gertrude's Other Children?
Part VIII: Who Am I? What is My Name? – Gertrud and Leo's Trial
Part IX: Who Am I? What is My Name? Gertrude's Sisters!
Part X: Who Am I? What is My Name? – Part X – Gertrude's Marriage and Divorce
Part XI: Who Am I? What is My Name? – Part XI – Berlin, Warsaw, and the German Soldier
Part XII: Who Am I? What is My Name? – Part XII – Taking Stock