Since 2012 we have been trying to discover the birth identity of Pnina Gutman, who as an infant was smuggled from the Warsaw Ghetto with the assistance of a woman named Gertrud Spiro. We realized from the beginning that our best chance at solving the mystery was to find out as much as we could about Gertrude and her daughter Sonia, hoping they left some record behind of their activities. We have faced many challenges; when we started out, we did not even know the correct spelling of their last name. Thanks to our persistence, we can now account for most of Gertrud's whereabouts from the time she was born in Bladiau, East Prussia on 24 February 1899, until the day Gertrud and her daughter Sonia disappeared from a transport to Auschwitz on 24 August 1943.

Our recent discovery that Gertrud had two sisters has eclipsed all of our other accomplishments. They are without doubt dead by now, but if her sisters had children, Gertrude may have nieces and nephews who are still alive who might be able to give us information about their mysterious baby-smuggling Aunt. It's even possible their nieces and nephews knew Gertrud and Sonia well if they survived the war and returned to Berlin to be near their family.

The recently discovered trial records from the Bundesarchiv in Berlin have added some valuable information to what we already knew about Gertrud. Most importantly, the trial records of another insurgent Margarete Kaufmann mention Gertrude's brother-in-law Alfred Roehrs, who along with Gertrude and her husband Leo David Spiro, was involved in the illegal KDP (Communist Party) in the mid 1930s.

According to p 12 of the records: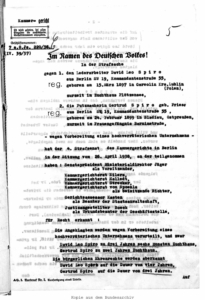 In early 1936, Margarete Kaufmann feared that the State Police would organize a search of her house. She entrusted her typewriter to the defendants, who were aware that the machine was used to produce illegal and inflammatory publications. At first, the defendants kept the machine at their house, until they were asked by Margarete Kaufmann on 6 June 1936 to bring the machine immediately to the home of the co-defendant Röhrs (Prosecution B). Gertrud Spiro carried out the transfer at noon the same day. Margarete Kaufmann arrived while she was still at the home of her in-laws the Röhrs.

This told us that Gertrude must have had a sister. But where to find her?

Sometimes even with difficult projects, the tried-and-true works best. When Cate Bloomquist searched Ancestry.com for a woman named Pries(s) from Berlin who married a man named Roehrs or Röhrs, she came up with Martha Maria Pries, b 20 Nov 1901 in Bladiau, East Prussia, the daughter of Friedrich and Maria Pries. Martha was unemployed. Her address was given as N 54 Brunnenstrasse 175/177, the same as Gertrud's family address in Berlin. Martha must certainly have been Gertrud's sister.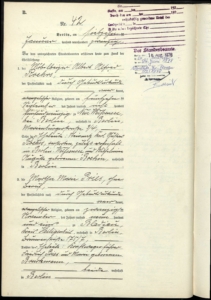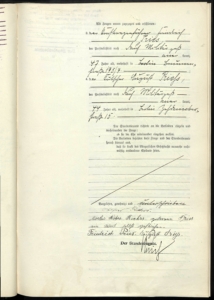 Martha married Albert Alfred Roehrs on 17 Jun 1920. Had they married just a few months later, their marriage record might not have appeared online. Ancestry has only posted the marriage records from Berlin through 1920.

Alfred was born 15 September 1895 in Neu Weisensee near Berlin, the son of the late Heinrich Karl Roehrs, a furniture maker most recently from Berlin, and Wilhelmina Augusta Roehrs nee Boehm. Alfred varnished furniture for a living. The witnesses to the marriage were Friedrich Pries, 47, a wagondriver, Brunnenstrasse 175/177, Berlin, presumably the father of the bride, and August Pries, 44, a coachman, Zehdenicker Strasse 15, Berlin, presumably the uncle of the bride. Both Friedrich and August provided their military IDs as identification.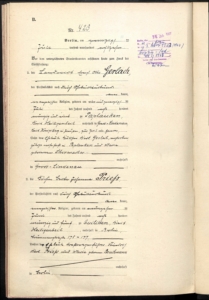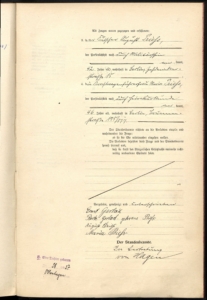 Searching Ancestry for additional marriage records in the same district Berlin Xa, I discovered a second sister, Berta Johanna Priess, b 19 June 1895 in Quilitten, Kreis Heiligenbeil. She was the daughter of Friedrich and Maria Priess. She was a cook and lived at the Priess family residence N 54, 175/177 Brunnenstrasse, Berlin.

Berta married Ernst Otto Gerlach on 20 July 1918 in Berlin. Ernst was born 24 Jul 1891 in Paplauken, Kreis Heiligenbeil. He was a farmer, the son of the late Kristfer(?) Karl Gerlach of Paplauken, and Maria nee Schirmacher. He was a resident of Gross Lindenau, Kreis Konigsburg, Prussia. The witnesses were August Priess, 42, a coachman, Zehdenicker Strasse 15, presumably the uncle of the bride, and Maria Priess, 46, the wife of a wagon driver, Brunnenstrasse 175/177, presumably the mother of the bride.

If there is still any doubt whether Berta and Martha were related, the signatures of the witness August Priess on their two marriage documents are very similar.

Unfortunately, since Leo Spiro and Gertrude Priess were married in 1923, their marriage record does not appear in the Berlin marriage database on Ancestry.com, since it only goes as far as 1920.

The Berlin marriage indexes are online on the website of the Berlin Landesarchiv. They cover some city districts through 1933. Searching District Xa for the years 1918 and 1920, I was able to find a reference to the marriage of Gertrud's two sisters, but not to Gertrud's marriage to Leo Spiro. In fact, I could not find a reference to Gertrude and Leo's marriage in any district in Berlin. This was a surprise; in the case of a mixed Jewish-German marriage, it was probably mandatory that the marriage be registered with the civil authorities.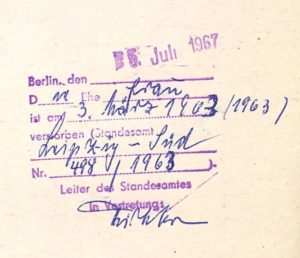 The sisters' marriage records produced more information than expected about the Roehrs and Gerlach families. In the top right hand corner of Berta's marriage license there is a stamp dated 5 Jul 1967 indicating that Berta died on 3 March 1963 in Leipzig, death certificate No. 498/1963. It is not known why the stamp is dated four years after her death. Perhaps that is when her husband Ernst died.

On the bottom left corner of the back of Berta's marriage record there is a second stamp that indicates Berta gave birth to a daughter in Ottenhagen in 1927. No name is given. The birth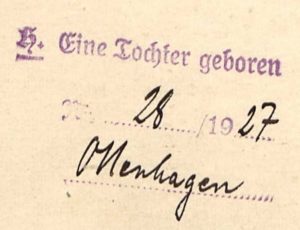 certificate of the daughter is No. 27/1927.

Martha's marriage record also carries a stamp in the upper right hand corner, dated 18 August 1978. It indicates that her husband Alfred Roehrs died on 24 June 1978 in Wandlitz, Kreis Bernau. His death certificate number is given as 52/1978.

According to the German Personal Status Law Reform Bill (Personenstandsrechtreformgesetz) of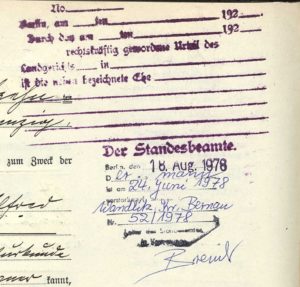 February 2007, as of 1 January 2009, Germany privacy laws restrict birth records for 110 years, marriage records for 80 years, and death records for 30 years. While recent birth records may be hard to get, marriage records beyond 1936, and death records beyond 1986 should be publicly available.

Since Berta died in 1963, my next step was to write to the Leipzig Stadtarchiv (city archive) to ask for a search for Berta's obituary and to obtain a copy of her death certificate. German obituaries as different from ours here in the US. They do not appear on alphabetical lists of people who have died that day or the day before. Instead, German families usually submit announcements that look like calling cards of various sizes that tile the page of a newspaper. The announcement can appear as long as a month or more after the family member dies.

Unfortunately, the search for Berta's obit in the Leipziger Volkszeitung from 4 March through 23 March 1963 was unsuccessful. It could be that the family published her obit later, or that they did not publish an obit at all.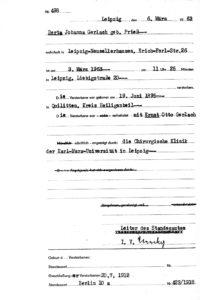 The search for Berta's death certificate was more successful. It was not difficult to locate, as I was able to supply the archives with her exact date of death and the certificate number. The certificate confirms much of what we already knew about Berta, that she was born on 19 Jun 1895 in Quilitten, Kreis Heilingenbeil, that she married Ernst Otto Gerlach on 20 Jul 1918 in Berlin District Xa, and that she died in Leipzig 6 March 1963 at 11:25 am. Her address at the time of her death was Leipzig-Neusellerhausen, Erich-Ferl-Str. 26. She died at Karl Marx University Surgical Clinic, Liebigstrasse 20, Leipzig.

Berta's death certificate does not give us much more information than we had, however, it does tell us her address in 1963. If we can find the Leipzig city directories from that year, we can determine what Ernst Gerlach did for a living. Since he had a common name, this will help us distinguish him from others by that name. We may also find other Gerlach relatives living at the same address.

Regarding Berta's daughter, on instructions from the archivist at the Leipzig Stadtarchiv, I wrote to the city hall in Uckerland, the municipality where Ottenhagen is located about 1-1/2 hours northeast of Berlin. I providing the number of the birth certificate for Berta's daughter. Unfortunately, they told me they did not have any such record in their archives.
Acting on a hunch, I discovered there was a second town called Ottenhagen (now Berjosowka) in East Prussia. Until 1939 the local administrative district of Ottenhagen also included the town of Gross Lindenau (now known as Oserki). Both towns are now a part of the Kaliningrad Oblast, Russia. It would make sense that this Ottenhagen was the one referred to by the stamp on Berta's daughter's birth certificate, as Ernst Gerlach was a resident of Gross Lindenau when he married Berta in 1918. The Kaliningrad Oblast is a Russian enclave surrounded by Latvia and Poland. To get to Russia from Kaliningrad, you must travel east through Belarus.
It seems that the Priess family had roots in East Prussia. Gertrude and her younger sister Martha were born in Bladiau (now Pjatidoroschnoje), East Prussia. Her older sister Berta was born in Quilitten (now Schukowka), just 2 km south of Bladiau along what is now Hwy A194. Berta's husband Ernst Gerlach was born in Paplauken (now Timirjasewo), a tiny village of 42 people in 1910, only 1 km south of Quilitten along Hwy A194. Since Ernst and Berta were born about 1 km apart, it is possible that they had known each other since childhood.

I've contacted Susan Gaupp, the administrator of the Kirschspiel-Bladiau site to ask about obtaining birth records from the area. She replied that there were very few. She knew nothing about the genealogy of the area.

Hopefully some of these new leads to will still help us locate the descendants of Gertrude's two sisters Berta Priess Gerlach and Martha Maria Pries Roehrs. Hopefully those descendants will have some knowledge of what happened to their Aunt Gertrude and Cousin Sonia. Did they survive the transport to Auschwitz? Did they survive the war? Did they return to Berlin or even East Prussia and live near their family?

Stay tuned…

Who Am I? What is My Name? Part I – Pnina, Otwoc, and the Kaczmareks

Who Am I? What is My Name? Part II – Pnina, Wolfgang, and the Warsaw Ghetto

Who Am I? What is My Name? Part III – Gertrude and Sonia Spyra

Who Am I? What is My Name? Part IV – Wolfgang and Adele's Eyewitness Account

Who Am I? What is My Name? Part V – Gertrude and Sonia's Escape

Who Am I? What is My Name? Part VI – Our Search for Gertrude Spiro

Who Am I? What is My Name? Part VII – Gertrude's Other Children?

Who Am I? What is My Name? Part VIII – Gertrud and Leo's Trial

Who Am I? What is My Name? – Part IX – Gertrude's Sisters!

Who Am I? What is My Name? – Part X – Gertrude's Marriage and Divorce

Who Am I? What is My Name? – Part XI – Berlin, Warsaw, and the German Soldier

Who Am I? What is My Name? – Part XII – Taking Stock