The body of an unidentified female was discovered in Houston, Texas near Walters Road on October 16, 2012. She is believed to have died sometime during the month of September that year. She is described as having a small build, very dark brown, shoulder length, curly hair that was held back from her face with a standard bobby pin. And she was possibly of biracial ethnicity.
According to the Houston Chronicle, "one piece of evidence stands out and gives investigators at the Harris County Institute of Forensic Sciences hope that someone will recognize her: a dark emerald T-shirt with an image of the cartoon character Smurfette daintily plucking petals from a flower." This has inspired her story to spread and she has come to be known to many as "Smurfette Doe."
At the time of her discovery, it was estimated that she had been deceased for approximately 3-6 weeks. In time, at least 17 missing girls have been ruled out as this decedent.
Identifinders is grateful to audiochuck for underwriting this investigation on behalf of Harris County Institute for Forensic Sciences.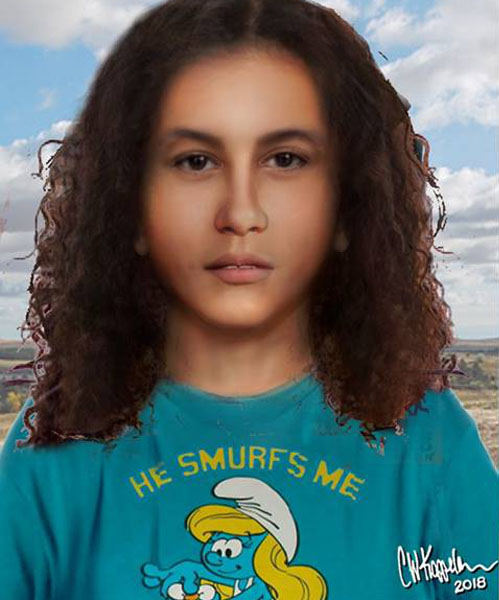 Background:
NamUs ID: UP10722
Date Remains Discovered: October 16, 2012
Race: Biracial (White and Black)
Gender: Female
Estimated Age: 15-17
Location: Houston, Texas
Agency:
Harris County Institute of Forensic Sciences
(832) 927-5000