**BREAKING: The Identifinders team has identified Bibb County, Alabama's beloved 1961 John Doe as Daniel Paul 'Danny' Armantrout, born December 28, 1945 in Miami, Florida.
His identity was announced live Saturday, October 30 at 7PM Central on Gray Hughes Investigates. Gray and his YouTube audience of "Freaks" generously funded the expensive and time consuming investigation that required almost a year of work to gain viable DNA for a SNP profile.
Danny Armantrout's identification represents the oldest case of a National Center for Missing and Exploited Children subject ever solved by genetic genealogy.
In-depth New York Times article, including an interview with Danny's brother: Killed in a 1961 Crash, 'Unknown Boy' Is Finally Identified
The Identifinders Press Release: 1961 Alabama Car Accident Victim Identified After 60 Years
Watch the replay of the YouTube announcement: Bibb County John Doe! 1961 – IDENTIFIED
Bibb County, Alabama's 1961 John Doe has been missing from his family for over six decades. The young man hitched a ride with motorist James White on Highway 25 south of Wilton, near the Shelby-Bibb County line in Alabama. He reportedly told Mr. White that his parents were going through a divorce and he had no specific destination.
Not long after picking up his young passenger, the driver struck a guardrail near River Bend bridge and the vehicle plunged into Cahaba River below. The driver survived, yet the boy was critically injured and drowned.
It is believed that the young man hitched rides with at least three different motorists prior to his death. One claimed that the traveler had stayed with relatives as he moved between Montevallo, Alabama and South Carolina trying unsuccessfully to find work. Another good samaritan claimed that he might have connections to the military service or have been an inmate at some kind of institution.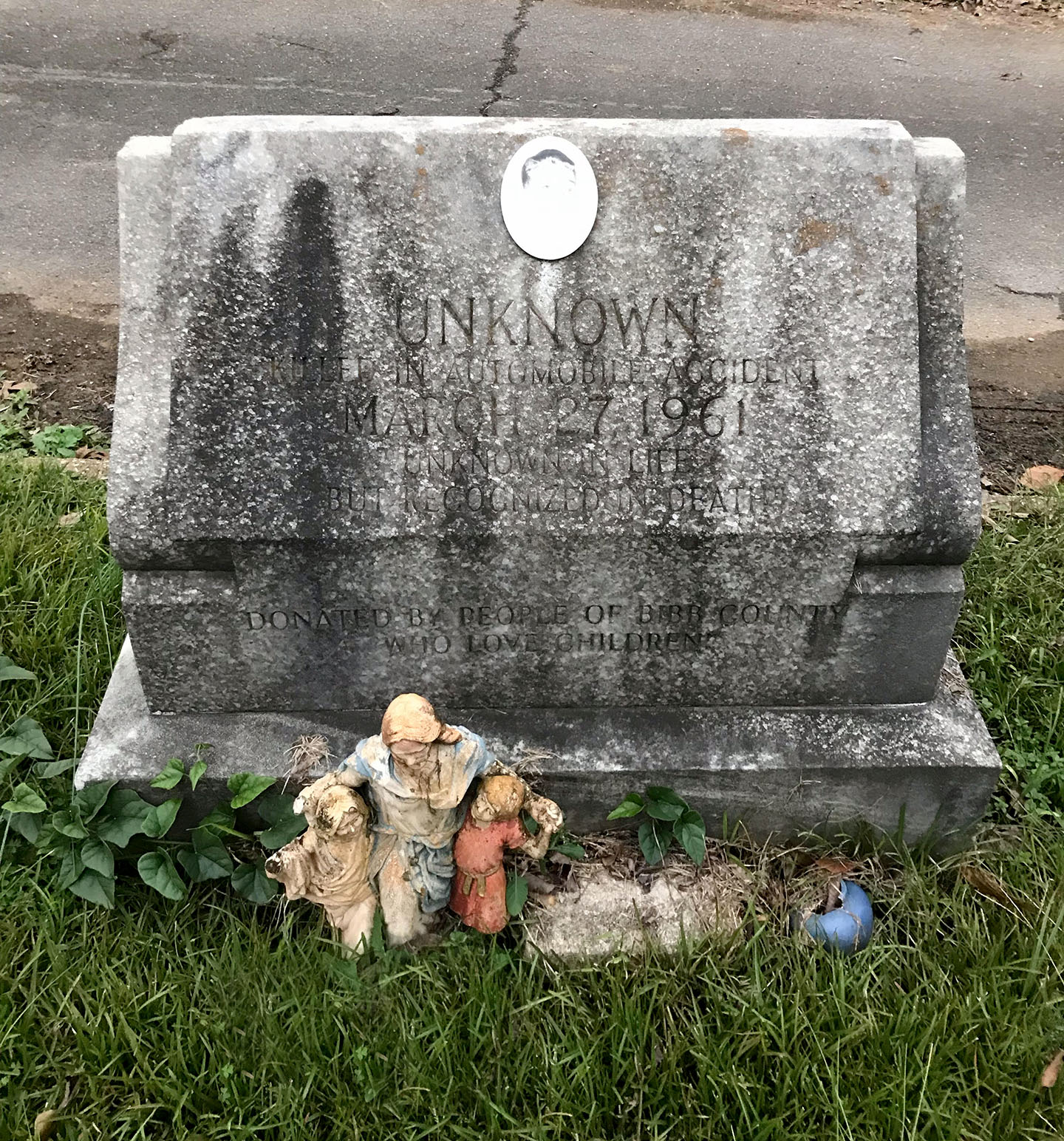 The community of Centreville, Alabama erected a burial marker for their young unidentified victim of a 1961 car accident. It reads: "Killed in automobile accident March 27, 1961. Unknown in life but recognized in death. Donated by people of Bibb County who love children." (Photo courtesy of Jody Wade, Sheriff of Bibb County, Alabama.)
The clothing the boy carried with him indicated he may have been from the north. His cigarettes were from South Carolina.
After losing his life in a car accident, some of this unknown boy's 1961 funeral expenses were raised by area schoolchildren. Beautiful floral sprays adorned his burial site. According to Ben Windham of Tuscaloosa News, "Some of Bibb County's most prominent citizens, including a future County Commission chairman, a future Centreville mayor, a bank president, as well as Sheriff Dailey and Oakley, served as pallbearers."
In June 2016, the Bibb County teen's remains were exhumed, underwritten by the National Center for Missing and Exploited Children. After obtaining DNA samples he was reburied the same day.
Identifinders is grateful to Gray Hughes Investigates for underwriting this investigation on behalf of the Bibb County, Alabama Coroners Office.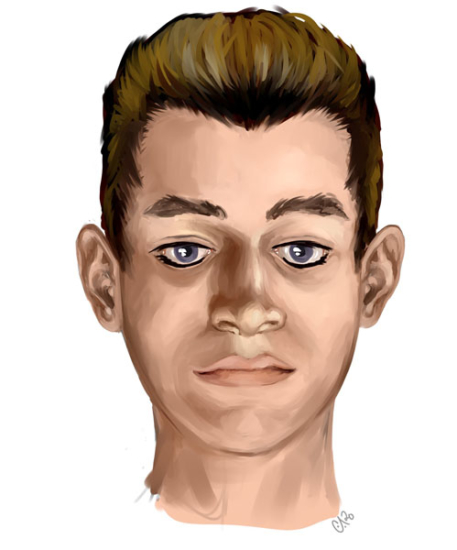 Background:
NamUs ID: UP13483
Date of Death: March 27, 1961
Race: White/Caucasian
Gender: Male
Estimated Age: 14-17
Location: Bibb County, Alabama
Agency:
Bibb County Coroners Office
(205) 926-9351
Reconstructed portrait, left, by reddit user Sidneyia